I finally got around to conduct a new set of experiments. These experiments focus on fermentation. Rather than brewing full batches of beer and change parameters I'm using wort left over from full size batches to run a few small scale fermentation experiments.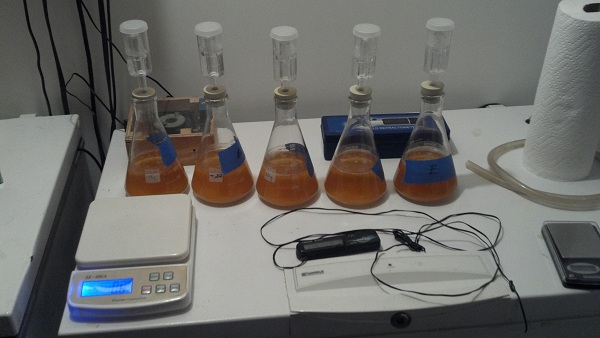 The first set of experiments focused on pitching rate. Since pitching rate is a parameter that has been evaluated by many brewers I didn't expect too many surprises. I was mostly interested in testing my approach, in particular using the weight change of the fermenting beer as an indicator of the progression of fermentation. This weight drop is the result of escaping CO2.
300 ml of 12 Plato beer contain about 36g of extract. With an apparent attenuation limit of 80% about 66% or 23.8g of this extract is fermentable. About 1/2 of its weight is converted to CO2 of which the majority escapes. This means during fermentation the beer looses about 11g or 4% of its weight. This weight loss can easily be followed using a scale with an accuracy of 0.1 g. The scale I use is a cheap kitchen type scale with a capacity of 2 kg and a precision of 0.1g. It has shown excellent repeatability of weight measurements.
Setup
For this experiment WLP 830 yeast sediment from a fast ferment test was added in different amounts to about 355g of 13.1 Plato Pilsner wort. The wort was aerated to about 7.2 ppm O2 before it was divided into the individual 500 ml flasks for the experiment. The yeast was brought into suspension and pitching rates were determined though cell counts.
The beer was not agitated during fermentation and the flasks were closed with an airlock. The mean ambient fermentation temperature was 18 C. Weight measurements were taken twice daily. After 7 1/2 days, once the weight stabilized and approached the expected weight loss, the extract was measured using a hydrometer and the beer was filled into individual 12 oz bottles. Sugar syrup and some yeast was added to carbonate the beers.
To asses the level of yeast growth that happened during fermentation all beer was decanted from the flask and the flask with sediment was weighed. The empty weight of all flasks used was known and hence the weight of sediment could be determined. To estimate cell count a sediment density of 4 Billion cells per gram was assumed. This is a number that I found true for yeast sediments from fast ferment tests or yeast propagation.
Results

The following chart shows the beer's weight drop (in %) during fermentation for all 5 pitching rates: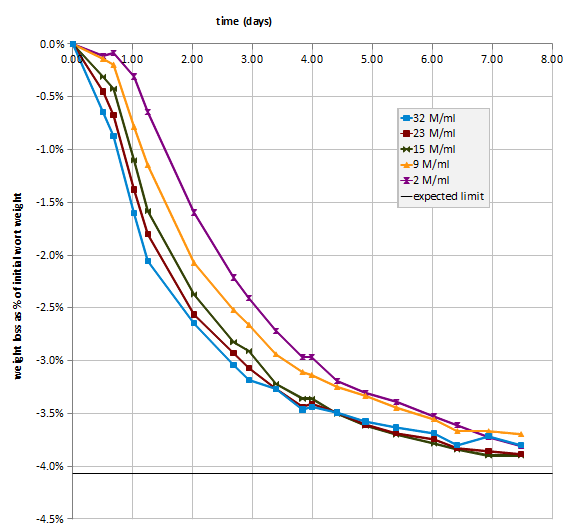 The following table shows metrics that were measured
test name

A

B

D

C

E




stating extract

13.1

Plato

attenuation limit

80.0%




yeast strain

WLP830 from slant




yeast source

Bo Pils FFT




yeast age

2

days

fermentation type

still, airlock, in 500ml flask




fermentation temp

18

C

starting O2

7.2

mg/l

pitching rate

32

23

15

9

2

M/ml

extract drop per day 1)

3.5

3.7

3.7

3.0

2.8

Plato

final extract

2.7

2.7

2.7

2.8

2.9

Plato

attenuation delta 2)


0.6%

0.6%

0.6%

1.4%

2.1%




yeast growth

36.0

30.7

37.5

33.9

29.3

B

growth per extract

0.77

0.66

0.81

0.72

0.63

B/g
1) the extract drop per day was for the most active part of the fermentation
2) difference between limit of attenuation and actual attenuation
Discussion
The progression of the extract or weight drop during fermentation was as expected: The higher the pitching rate the faster the fermentation start and the greater the extract drop during the most active part of fermentation. This has been observed before and is related to the greater initial yeast population.
It is also well known that beers with lower pitching rates have a more difficult time or take longer to attenuate fully. This was observed as a higher final extract for the beers with the lowest pitching rates compared to the beers with higher initial pitching rates. The differences were not very dramatic, though.
The amount of yeast growth showed a correlation to pitching rate. Higher pitching rates lead to more yeast growth (the initial cell population was considered in this analysis) but the differences in yeast growth were not large. The highest pitching rate yielded about 25% more yeast growth. This might be due to the fact that yeast growth was limited by sterol reserves. A large initial population has more combined sterol reserves than a small initial population which means that it can sustain more cell divisions.
I have not yet tasted the finished beer and also plan to measure the pH of each of these beers at that point.