I'm starting to hit a stride with respect to yeast growth experiments. Last week I posted data on Access to Air and its Effect on Yeast Growth in Starters, this week I have data on the effect of the stir speed.
Some home brewers believe that as long as the starter is moving there is sufficient opportunity for the head space oxygen to diffuse into the starter beer and become available to the yeast as a nutrient. I never really believed that. Last week's experiment showed that yeast growth does benefit from increased access to oxygen. So, if yeast growth is a reflection of the amount of oxygen taken up by the starter, then the impact of stir speed on oxygen uptake can be shown by its effect on yeast growth.
The setup of the experiment was simple. About 1200 ml of 8.8 Plato wort were prepared from DME and water. There is nothing magical about 8.8 Plato. That's just how it came out after evaporation and topping off more water than planned. That wort was inoculated with WY2042, the low flocculant lager yeast that has become my favorite lab rat, to an initial density of 0.11 B/g or 10 B/L. That's a pretty low initial cell density but I wanted the cell growth to be dominated by the available nutrients and not the health or reserves of the initial yeast population. The yeast was about 2 days old. That means 2 days after having been propagated last.
The inoculated wort was distributed among four 500 ml Erlenmeyer flasks. Not all flasks received the same amount of wort since I wanted to prevent the slow speed one from developing a vortex.  After that the flasks were placed on identical PWM (pulse width modulation) controlled identical stir plates at about 22 C. The stir speed was adjusted to:
low: no vortex, but yeast is kept in suspension
medium: vortex reaches all the way to the stir bar
high: strong vortex and lots of air bubbles are visible in the starter
I also added one experiment where I added one drop of Fermcap S to suppress foam formation. But the stir speed was so high that there was still foam formation even with the Fermcap S. This was also done on a high speed setting. No information about the actual RPMs of the speed settings is available.
All four starters were done uncovered in order to eliminate differences in gas exchange that may have resulted from crimping the aluminum foil differently.
The following are images that illustrate how the starters looked at the beginning:
Results and Discussion
This experiment did show a strong correlation between stir speed and yeast growth. The slower the stir speed was the less yeast was grown per initial gram of extract.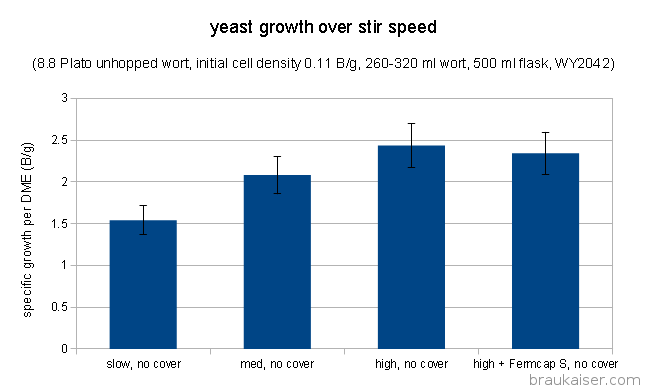 This is not surprising given the fact that a well developed vortex allows for a better gas exchange between head space and the starter.  The growth rate of 2.08 B/g for the medium stir speed is in line with the growth rate of 2.25 B/g that the same starter set-up achieved in the Access to Air and its Effect on Yeast Growth in Starters experiment. The measured growth rate for the starter with Fermcap S was slightly lower but should be seen as equal to the other high stir speed starter due to the uncertainty in cell counting.
Conclusion
Stir plate stir speed and resulting vortex development does have an impact on yeast growth. The obvious conclusion is that one should choose a larger flask if that leads to a better vortex. Given that yeast growth depends on the amount of available extract an interesting trade-off becomes apparent: Is it better to have a smaller volume of higher gravity starter with a good vortex or a larger volume of lower gravity starter with a lesser vortex. I'll be investigating this trade-off soon.
Opinion
I'm not a fan of foam control agents like Fermcap S in brewing. While it can be argued that it is safe (although the manufacturer recommends removal through filtration) it represents a shortcut that home brewers should not embrace. Especially the ones that are complaining about the shortcuts that large commercial brewers are taking. I'm including it in my research in simply because I want to see if the foam produced by a starter gets in the way of the yeast's access to oxygen.  In this case it did not make a difference which was likely due to the fact that the starters did not develop much foam to begin with and the vortex was quite strong.