This is an experiment I conducted a few weeks ago. It examines the effect that the starer original gravity has on yeast growth. Only yeast growth and viability based on methylene blue staining were examined.
Experiment Setup
For this experiment a 20 Plato wort was prepared from DME and inoculated with a culture of WLP 036 (Duesseldorf Altbier) at a rate of about 0.04 B/g. After inoculation and thorough mixing the wort was divided into four 500 ml flask. Each flask received about 100 g of the 20 Plato wort. To 3 of the 4 flasks additional water was added. The amount of water added was 100 g, 200 g and 300 g, respectively.
Results
Yeast Growth
The following chart plots the specific growth in Billion per gram of extract (B/g) for the 4 different experiments.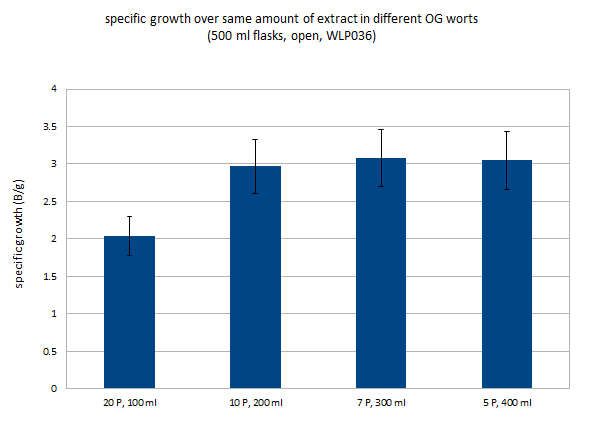 While the 20 P/100 ml experiment was able to develop the best vortex due to the lower wort level, it's growth was significantly less than that of the other experiments with lower gravity and higher wort levels.  Yeast growth saturates at 3 B/g but from this experiment it is not apparent if this limitation is caused by the culture's access to air or another limiting nutrient. That other limiting nutrient could be nitrogen.
During propagation hardly any vortex was visible in the 5 P/400 ml starter due to a volume that approached the capacity of the flask (500 ml) yet it still showed the same growth as the 10 P/ 200 ml experiment where the vortex was able to draw in more air. A previous experiment (Stir Speed and Yeast Growth) showed yeast growth changes as the stir speed and with it the size of the vortex changes. However, this experiment was done with a different yeast (WY2042) and the yeast used here (WLP036) may hit maximum growth in wort with lower oxygen uptake than WY2042.
Culture Viability
When the growth yeast populations were stained with methylene blue to asses their viability slight differences were noticeable.
Yeast grown in the 20 Plato starter showed a viability of about 90% while populations from the other 3 starters had close to 100% viability.  That was to be expected given the toxicity of high alcohol environments on yeast cells.
Conclusion
The experiment did not uncover much new information. It showed that high gravity worts but lower starter volumes to not result in the same amount of yeast growth compared to a lower gravity starter with more volume despite their potentially improved access to O2. Furthermore, the resulting higher alcohol concentration in high gravity starters is likely to reduce the viability of the culture.